On this page...
What is HubSpot Onboarding?
Why choose HubGem to deliver Onboarding?
Duration and Cost
HubSpot Marketing/Sales Professional Onboarding
HubSpot Service Professional Onboarding
HubSpot Enterprise Onboarding
HubSpot Starter and Free Tools Onboarding
Our Exclusive Education Onboarding Hub
Onboarding Schedule and Content
Ongoing Support
What is HubSpot Onboarding?
Onboarding (also known as guided client onboarding) is an introduction to HubSpot tools, it is a requirement (and extremely valuable!) to anyone using HubSpot Professional and Enterprise products.
HubSpot tools will help you with effective lead generation, closing more deals or conversions, and aligning your marketing, sales (or admissions) and service teams.
Implementation is the most important part of your HubSpot journey, effective technical set-up, a joined-up approach to your lead-capture strategy and a considered plan on how your want to handle your data is key to long term success.
Whether you simply want training on the products so that your team can implement them, or you need a more consultative approach and support with implementation and technical set-up, we can help.
Why choose HubGem to deliver Onboarding?
As a Gold tiered Certified HubSpot Solutions Partner, we can guide you through the task of setting up your new system and getting your inbound marketing efforts off the ground.
We have helped businesses of all different shapes and sizes implement HubSpot tools successfully - from start-ups to non-profits, and professional services to eCommerce. We are recommended by HubSpot colleagues as an education specialist and are well-prepared to help schools, colleges and universities implement HubSpot tools.
Here are a few reasons to choose HubGem for your HubSpot guided client onboarding:
Experienced at implementing HubSpot products across businesses of various shapes and sizes (from start-ups to large companies)
Get more for your money. Our onboarding packages are delivered by a specialist growth consultant who can help you reach your goals with marketing strategy embedded into the training sessions.
Education, non-profit and start-up specific onboarding. We can included dedicated sessions aimed at setting HubSpot up to transform your admissions processes, fundraising activities and marketing campaigns.
Access to our unique learning centre (more information below).
5-star service. We have 100% positive feedback from our customers, many of whom enjoy working with us so much that they trust us with ongoing projects (such as web development or consulting) and support packages.
Remote and in-person delivery options. We plan our onboarding to suit your needs, offering a flexible programme and delivery options. We offer our services worldwide.
Duration and Cost
Our HubSpot onboarding is designed for those using HubSpot for the first time.
We offer a number of onboarding packages, if you have any questions, drop us an email and we will be happy to help you identify the best solution for your needs.
All of our Professional and Enterprise onboarding options include:
Dedicated marketing specialist
Unlimited email support
90 days of support
Access to our exclusive Onboarding Hub
Details on our onboarding packages and pricing below.

HubSpot Marketing/Sales Professional Onboarding
Option 1: Basic
Learn the fundamentals of the HubSpot Marketing and/or Sales Professional software with a HubSpot for education and non-profits specialist.
Including:
1x 1-hour training session per week for you and your team
Email support throughout
Ideal for: Large teams who have in-house capacity to implement HubSpot whilst learning the tools
£2500
Option 2: Advanced
Comprehensive training on the HubSpot Marketing and/or Sales Professional software with an education and non-profit specialist. Collaborative implementation support and strategy sessions.
Including:
2x 1-hour training sessions per week for you and your team
Persona development, content & SEO strategy
Data import and workflow support
Admissions-specific set-up and training
Email support throughout
Ideal for: Small to medium teams who would benefit from a consultative approach to onboarding.
£3000
Option 3: Premium
Comprehensive training on the HubSpot Marketing and/or Sales Professional software with an education and non-profit specialist. Plus consultative implementation to set you up for success with strategy and admissions training.
Everything included in Option 2, plus:
Initial Technical set-up (including tracking code installation, connecting ads, shared inboxes and social accounts, custom properties, GDPR functions, live chat set-up, replacing existing web forms, connecting with apps featured in App Marketplace)
Import of existing contacts
Marketing tools set-up (including branded email template, landing page template, ads audience, smart lists and up to 5 automation workflows)
Creation of one admissions process (including forms and automation)
Ideal for: Organisations with complex processes or busy teams who do not have the capacity in-house for set-up.
£4000
HubSpot Service Professional Onboarding
Comprehensive training on the HubSpot Marketing and/or Sales Professional software with an education and non-profit specialist.
Including:
Remote (5x 1 hour calls) or in-person (1 day) delivery.
Email support throughout
£450
Note: if you are using HubSpot Growth Suite Professional, you will need one of the above onboarding options (1, 2 or 3) plus Service Hub onboarding.
HubSpot Enterprise Onboarding
For large organisations using HubSpot Marketing, Sales or Service Enterprise products, effective implementation and effective onboarding is key to your long term success with HubSpot products. We can tailor our onboarding to meet your needs.
Contact us to discuss your unique requirements.
From £5500
Onboarding for HubSpot Starter or Free Tools
HubSpot starter products are aimed at small businesses and start-ups. We provide a number of CRM and Starter Services, including Starter Onboarding, for smaller businesses which include training on the free or Starter products.
From £450
Our Exclusive Education Onboarding Hub
We are delighted to announce our Onboarding Hub, exclusive to education organisations who complete their HubSpot Onboarding with us. This unique online resource centre has everything you need to make HubSpot implementation a success for your school, college or university and complements the onboarding sessions.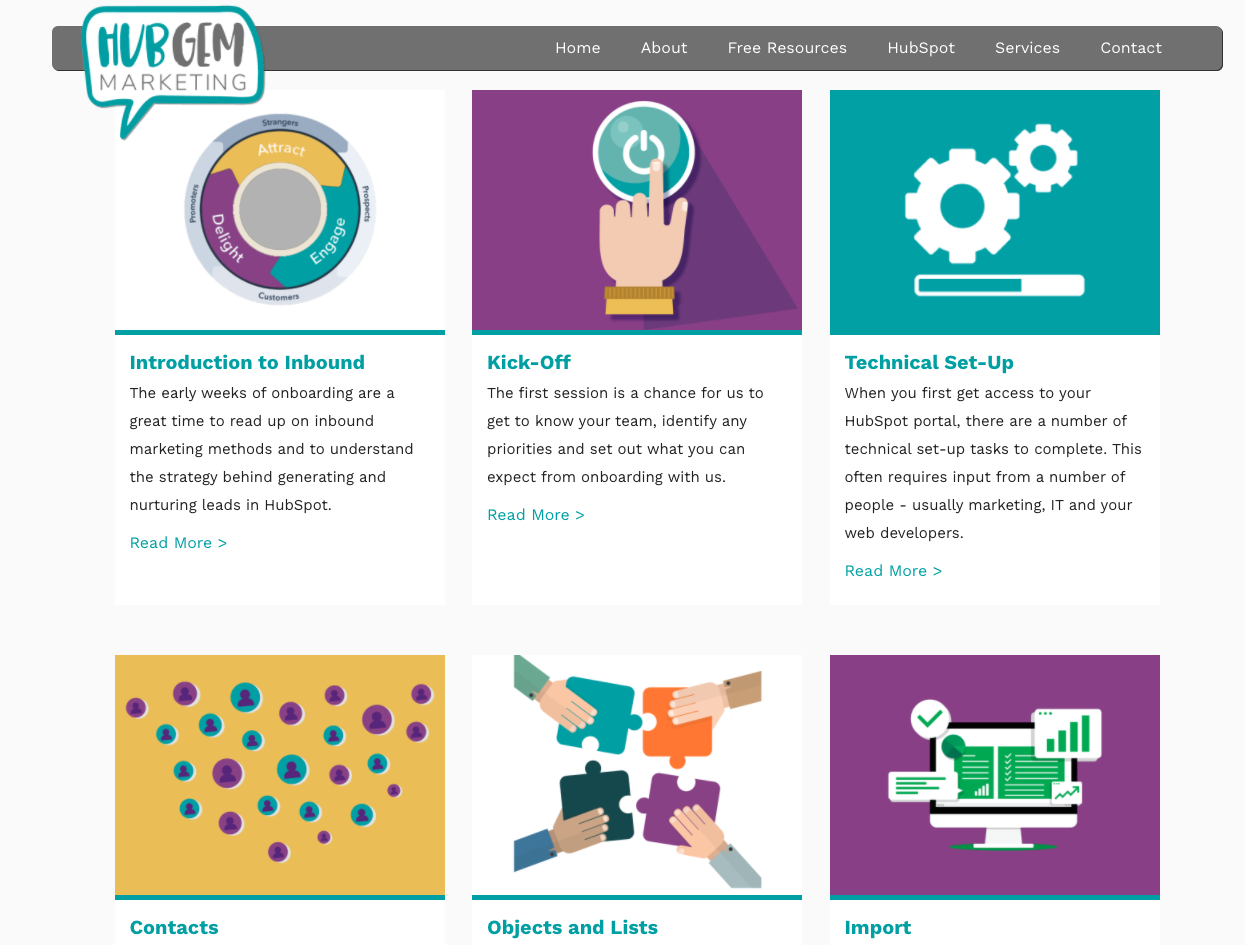 If you want us to cover anything not listed, please get in touch to discuss your requirements.
*Onboarding is a HubSpot requirement for all Marketing/Sales/Service Hub Professional and Enterprise users. For in-person onboarding, travel expenses apply
Onboarding Schedule and Content
We understand the demands of the education and non-profit environments. That's why we strive to be as flexible as possible with the delivery of our Onboarding Services.
Our onboarding delivery makes the most of your 90-day onboarding period and gives you time to practice what you have learned between calls.
See an example detailed onboarding schedule.
Below is an example of what we will cover during Marketing and Sales Professional Onboarding (this will vary depending on your goals and the onboarding package you choose):
Kick-off & Goal Setting
Contacts & CRM Tools
Objects (Companies, Deals, Tickets, Products)
Import
Lead Capture & Forms
Quotes
Conversion Paths
Quick Wins
Conversations and GDPR
Introduction to Automation
Social Tools and Ads
Campaigns
Reporting
Ongoing Support

Advanced persona development

Buyer's journey content planning

Admissions training sessions

Workflow logic support
Below is an example of what we will cover in Service Professional Onboarding
Knowledge Base - set up, functionality, reporting
Chatbots and live chat automation
Tickets and ticket pipelines
Measuring customer experience using feedback surveys
Ticket reporting
Implementing HubSpot is not something that should be rushed, it is important that we work with you to spend the time learning about how to get the most out of the system. However, if you are working to short timeframes, we may be able to offer an intense schedule to get you ready to launch your first campaign within a couple of weeks (subject to availability).
If you want us to cover anything not listed, please get in touch to discuss your requirements.
Ongoing Support
Once your onboarding period is over, we can offer a continuation of our support with our monthly packages - designed with flexibility in mind and something for every budget.
Attract, convert, close and delight to grow your enrolment numbers.